Hours
Museum open Sundays 10AM - 3PM by appointment onlyJune - July - AugustEmail delia@snet.net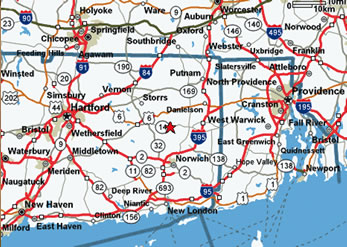 Directions From Worcester:
Take I-395 to Exit 91 (Rte 6). Take Rte 6 West toward Danielson to Rte 97. Rte 97 is a left off of Rte 6. Continue until you reach a stop sign at the intersection of Rte 14 and Rte 97. Turn right onto Rte 14w to Scotland.
Directions from New Haven:
Take I-95 to I-395. Take exit 83 off of 395 (Rte 97 North). Turn left onto Rte 97 and proceed to Scotland.
Directions from Hartford:
Take I-84 to I-384 split. Take I-384 East to Rte 6. Follow Rte 6 to the Rte 6 Expressway. Turn right at the end of the Expressway and continue to Rte 203. Turn right onto Rte 203. Turn left at the stoplight. At the 3-way stop intersection, take the slight left onto Rte 14. Take Rte 14 into Scotland, turn left onto Brook Rd.
Once You Reach Scotland...
Brook Road is the first right off of Rte 14w, just past the Scotland General Store and opposite the town green between the two churches.